Pharmacokinetics
Here are different curves of plasma concentration of drugs versus time after administration according to different parameters: characteristics of drugs such as half-lives, doses, routes of administration, frequency of administrations. These examples show the consequences that can be observed when parameters of prescription are changed.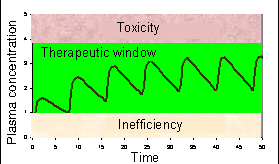 The equations used for simulating the curves were taken from :
Pharmacokinetics
Principles and Applications
Mehdi Boroujerdi
McGRAW-HILL 2002
For more explanations, see Pharmacokinetic text.