Paroxetine and tamoxifen, pharmacokinetic interaction with clinical consequences
| | |
| --- | --- |
| Author : Pierre Allain | Date : 2010-2-15 |
---
Tamoxifen, is one of the drugs most used in breast cancer. Tamoxifen, inactive by itself, is metabolized into several inactive and active products. The active metabolites, 4-hydroxytamoxifene and especially endoxifen, result from the intervention of P450 cytochromes, in particular CYP2D6, see figure below. The activation of tamoxifen by the CYP2D6 is reduced in patients with enzyme deficiency and in patients treated by another drug inhibiting the enzyme (pharmacokinetic drug interaction).
A paper published in the BMJ of February 8th, 2010 shows that when paroxetine is used in depressive patients already treated by tamoxifen for breast cancer, the risk of mortality is higher than in those treated by fluoxetin, sertraline, or venlafaxin (in addition to tamoxifen).
This result is explained by the fact that paroxetine inhibits CYP2D6 and thus prevents the activation of tamoxifen.
In practice for woman a treated by tamoxifen for breast cancer, if a depressive disorder appears, it is better to not use paroxetine.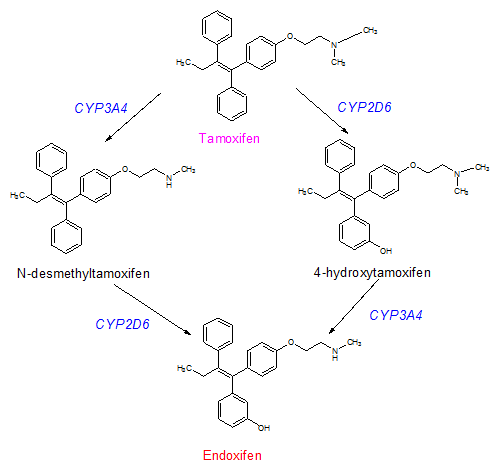 Biotransformations of tamoxifen into active metabolites