Eicosanoids, effects
Prostaglandins, thromboxanes and leukotrienes exert their effects by activation of receptors linked to G proteins which, by the intermediary of adenylcyclase which they stimulate or inhibit, or of phospholipase C.
Effects of prostaglandins, thromboxanes and leukotrienes are very complex, each molecule has its characteristics and it is difficult to draw a picture of their respective role. However, despite the risk of certain inaccuracies, it is necessary to retain their essential properties, on which therapeutic applications are based.
Effects of prostaglandins
PGE and PGI2 generally have "beneficial" effects:
Vasodilation, with possibility of headache
Inhibition of platelet aggregation
Reduction of the severity of myocardial infarction by a cytoprotector. Inhibition of atheroma development.
Increase in renal blood flow rate, decrease of water and sodium reabsorption
Inhibition of gastric secretion
Bronc hodilation
PGE2 inhibits 5-lipooxygenase and decreases leukotrienes biosynthesis
Involvement in sleep regulation: PGE2 would induce awakening whereas PGD2 would induce sleep.
pregnant women, they induce the cervical dilatation and the release of uterine contractions.
the fetus, they maintain open the arterial channel or ductus arteriosus and the inhibition of their synthesis by a nonsteroidal anti-inflammatory drug can accelerate its closing which normally happens 24 hours after the birth.
PGF lowers intraocular pressure by increasing aqueous humor efflux.
Prostaglandins "adverse" effects:
They are involved, as well as many other compounds, transmitters and cytokines, in inflammatory reactions.
They have an algesic, nociceptive action. In sensitive terminations, prostaglandins PGE2, PGI2 have a nociceptive effect.
They are involved in fever. PGE2, as well as interleukin-1B and TNFalpha (tumor necrosis factor) which elicit its release, can cause fever.
The distinction between beneficial and harmful effects is difficult. Thus, the inflammatory reaction which is often initially a useful mechanism of defence can become adverse.
Organs

Effects

Ptrostaglandins and thromboxanes

Vessels

vasoconstriction
vasodilation

PGF2 , TXA2
PGI2 (most active), PGE

Platelets

Aggregating effect
Anti-aggregating effect

TX
PGE, PGI2

Bronchi

contraction
dilation

PGF, TXA2
PGE, PGI2

Intestine

nausea, diarrhea

PGE, PGF

Stomach

decrease of gastric secretion

PGE, PGI2

Uterus

contractions

PGE, PGF

Kidney

increase in renal blood flow rate

PGE1, PGI2
Principal effects of prostaglandins and the thromboxanes
Thromboxane effects
Thromboxane A2 (TXA2) has a vasoconstrictive effect and a platelet aggregating effect, generally harmful. They could be implicated in the pathogenesis of asthma.
Leukotrienes effects
Leukotrienes LTC4, LTD4 and LTE4 which contain a cysteinyl residu, act on at least two types of receptors. They elicit platelet aggregation, increase capillary permeability and cause edema and bronchoconstriction with bronchial hypersecretion. They are involved in rhe chemotaxis of neutrophils. They play also a part in the pathophysiology of asthma, rheumatic and allergic symptoms, in colic inflammatory diseases and psoriasis. They may participate in the development of some tumors (breast, lung, prostate cancers).
Anandamide effects
Anandamide has a high affinity for the cerebral receptors of D-9- , tetrahydrocannabinol, active product of cannabis and is regarded as the endogenous agonist of these receptors. It is the principal endogenous cannabinoid. The anandamide term comes from the Sanskrit ananda which means bliss.
There are two types of cannabinoid receptors, one called CB1, present especially in the central nervous system, and the other CB2, especially present in immune system. The stimulation of CB1receptors, the best known, elicit analgesia and various psychological effects: euphoria, relaxation, difficulty of thinking, of memorizing, changes of visual and auditive perceptions, drowsiness, and other effects such as decrease in body temperature and modifications of endocrine secretions. Cannabis which is largely used illicitly was proposed for the treatment of hyperemesis and asa stimulant of appetite. It could also reduce spasticity and tremors of certain neurological damage.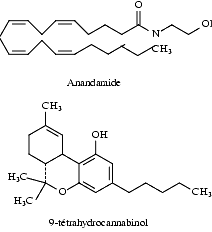 D-9- tetrahydrocannabinol is used in therapeutics in some countries, on medical prescription, as an appetite stimulant and antiemetic. It is administered by oral route in the form of capsules The precautions for its use insist on the risk of addiction, of accident in the event of automobile control for example and on the danger of associaing it with some other drugs and alcohol.
synthetic delta-9-tetrahydrocannabinol
(dronabinol)

MARINOL* Capsules
Nabilone, is a synthetic cannabinoid used in certain countries as an antiemetic and antiglaucomatous drug. Inhibitors of the reuptake and hydrolysis of the anandamide are under study. A low quantity of anandamide was found in chocolate. 2-arachidonyl-glycerol is also an endogenous agonist of cannabinoid receptors.