Purine nucleotides
The purine bases are adenine and guanine. Their biosynthesis is carried out from ribose-5-phosphate, with the successive supply of glutamine, glycine, aspartate and one-carbon group provided by formyl-tetrahydrofolate.
The precursor, ribose-5-phosphate, is converted to phosphoribosyl-pyrophosphate, PRPP, which itself is converted to inosine-monophosphate, IMP. There are ten enzymatic reactions between PRPP and IMP, of which two require N-formyl-tetrahydrofolate. The renewal of this last necessitates the action of dihydrofolate reductase (DHFR) and serine hydroxymethyltransferase .
IMP is converted, on one hand to AMP (adenosine monophosphate), ADP (adenosine diphosphate), ATP (adenosine triphosphate), and on the other hand to GMP (guanosine monophosphate), GDP (guanosine diphosphate), GTP (guanosine triphosphate), and their "deoxy" corresponding molecules.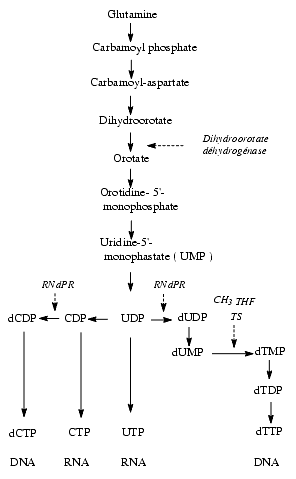 General scheme of purine nucleotide biosynthesis
XMP = xanthosine monophosphate, GMP = guanosine monophosphate, GDP = guanosine diphosphate, GTP = guanosine triphosphate, AMP = adenosine monophosphate, ADP = adenosine diphosphate, ATP = adenosine triphosphate, d = deoxy, RNdPR = ribonucleotide di phosphate reductase or ribonucleotide reductase, THF = tetrahydrofolate.