Lasmiditan for the treatment of migraine attack
| | |
| --- | --- |
| Author : Pierre Allain | Date : 2012-5-2 |
---
Lasmiditan is an agonist of the serotonin 5-HT1F receptors, it is under investigation for the treatment of migraine attack.
A paper published in the Lancet Neurology of March 2012 shows the results of a clinical trial with lasmiditan by oral route, at doses ranging between 50 and 400 mg, in the treatment of migraine attack. Compared to placebo, lasmiditan, 2 hours after its intake, reduced intensity of the painful crisis proportionally to the dose. Its main adverse effects were drowsiness, dizziness, paresthesias and tiredness. This clinical trial did not compare lasmiditan to a reference drug, a triptan for example.
There are different serotonin receptors, called 5-HT1, 5-HT2… 5-HT7. Among 5-HT1 receptors there are many types, in particular 5-HT1B and 5-HT1D receptors which are activated by triptans such as sumatriptan. Their stimulation elicits a vasoconstriction but there are also presynaptic receptors which modulate the serotonin release. The physiological role of the 5-HT1F receptors is poorly elucidated, there are postsynaptic and presynaptic 5-HT1F receptors.
Chemical formula of lasmiditan :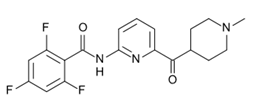 For more information, see also triptans.