Antineoplastic agents, analogs of purine bases
The analogs of the purine bases with antineoplastic and immunosuppressive properties are 6-mercaptopurine, azathioprine, pentostatine and cladribine.
Mercaptopurine and azathioprine
Mercaptopurine and azathioprine are structural analogs of purine bases. In the body, azathioprine is partially converted to mercaptopurine.
Mercaptopurine is metabolized according to three ways: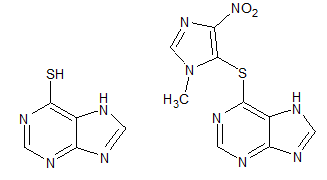 Mercaptopurine and azathioprine
Azathioprine is converted in the body: on one hand in the presence of glutathione into 6-mercaptopurine and nitroimidazoles metabolites at the origin of radical reactions damaging DNA, on the other hand, into 8-OH-azathioprine under the influence of xanthine oxidase. Azathioprine is different from the 6-mercaptopurine by the formation of nitroimidazole derivatives and an important consumption of glutathione, perhaps partly at the origin of its immunosuppressive effect.
6-mercaptopurine and its metabolites have complex effects:
Mercaptopurine and azathioprine have, because of their mechanism of action, important adverse effects, in particular hematological and digestive.
The clinical indications of 6-mercaptopurine (Puri-Nethol*) are myeloblastic and lymphoblastic leukemias.
The main clinical uses of azathioprine (Imuran*) are, because of its immunosuppressive effect, the prevention of the rejection of transplanted organs and the treatment of severe autoimmune diseases, generally in combination with a corticoid.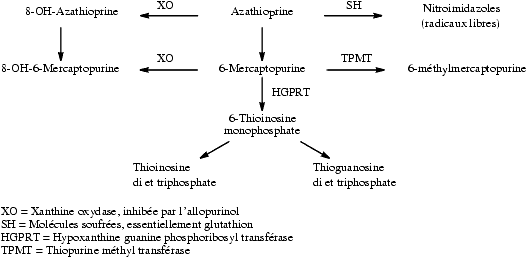 Metabolism of azathioprine and 6-mercaptopurine
Fludarabine is a derivative of the antiviral vidarabine, 2-fluoro vidarabine, also called ara-A, fluorinated on position 2 of the nucleus adenine and made soluble by addition of a phosphate group and named 2-F-ara-AMP.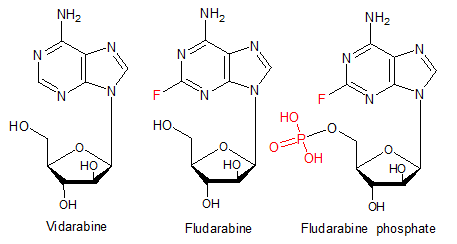 Administered by intravenous route, fludarabine is dephosphorylated in plasma into the inactive fludarabine which penetrates by active transport into cells where it is converted by kinases into its triphosphate metabolite, which inhibits various enzymes and induces the discontinuation of the synthesis of normal DNA and RNA. Fludarabine (Fludara*) is used for the treatment of chronic lymphocytic leukemia. The main adverse effects of fludarabine are hematological: thrombocytopenia, neutropenia and anemia.
Thioguanine
Thioguanine is a sulfur analog of guanine. It is converted into thioguanylic acid, which is then phosphorylated. It disturbs DNA biosynthesis in several points. Thioguanine (Lanvis*) is indicated for the treatment of myeloid leukemia.
Pentostatin
Pentostatine, also called deoxycoformycin, can be regarded as a structural analog of the purine bases.
The mechanisms of action of pentostatin are complex.
Pentostatine (Nipent*) is used for treatment of hairy cell leukemia and mycosis fungoides. Pentostatine can have many severe adverse effects.
Cladribine
Cladribine or chlorodeoxyadenosine has pharmacologic properties close to those of pentostatin. Cladibrine (Leustatin*) is used for the treatment of hairy cell leukemia and has the same adverse effects as pentostatine.