Beta-2 adrenergic agonists
The two main pharmacological properties of the beta-2-adrenergic agonists, also called beta-2 stimulants, used in therapeutics are their bronchodilator effect and their uterine relaxant effect to which correspond two therapeutic uses: preventive and curative treatment of asthma and treatment of risk of preterm delivery.
The mechanism of bronchodilator effect and uterine relaxing effect involves many steps which were schematized previously. Salbutamol, also called albuterol, is the drug of reference of beta-2 agonists.

Treatment of asthma

Beta-2 stimulants used in the curative and preventive treatment of asthma attacks are salbutamol, terbutaline, pirbuterol and fenoterol. They are given by bronchial route preferably to oral route, reducing the importance of their adverse general effects.

Salmeterol, formoterol and bambuterol are prescribed in prevention of attacks because they have a sustained effect, but not to treat attacks because their effect is not fast enough nor intense. They can also be used in the treatment of obstructive chronic bronchopneumopathy.

Bambuterol is a precursor of terbutaline which it releases in a progressive and sustained way. It is administered by oral route, which could induce more general adverse effects than by the bronchial route. Terbutaline, in sustained-release tablets is rather similar to bambuterol.

Beta-2 adrenergic receptors have a genetic polymorphism, four types of receptors having different sensitivities to beta agonists, were described. This polymorphism could play a part in the pathogenesis of asthma and explain differences in beta-2-mimetic activity according to individuals.

Beta-2 adrenergic agonists can be combined with glucocorticoids (fluticasone, budesonide) and muscarinic receptor antagonists (ipatropium) in certain proprietary medical products.

Albuterol
Albuterol + Ipatropium

VENTOLIN* HFA Inhalation
VOSPIRE ER* Tablets
ACCUNEB* Inhalation
COMBIVENT* Inhalation
DUONEB* Inhalation

Levalbuterol
XOPENEX* Inhalation
Salmeterol
Salmeterol + Fluticasone
SEREVENT DISKUS*
ADVAIR DISKUS*
Formoterol
Formoterol + Budesonide
FORADIL* Aerolyse SYMBICORT* Turbuhaler
Pirbuterol
MAXAIR* Autohaler

Treatment of threat of preterm delivery

Salbutamol, terbutaline and ritodrine are used to prevent premature labour.

Beta-2 stimulants, especially when they are given by parenteral or oral route, can induce adverse effects:
tachycardia secondary to peripheral vasodilation and cardiac stimulation..Tachycardia can be accompanied by palpitations.
tremor, sweats, agitation.
more severe effects, pulmonary edema, myocardial ischemia, cardiac arrythmia, are exceptional.
asthma aggravation has been observed in patients using large dose of beta-2 stimulants, but it is not known if it results from spontaneous course of the disease or adverse effect of the drugs. The excipients, in particular sulphite, could contribute to the adverse effects. The possible loss of the bronchodilator activity of beta-2-mimetic could be attenuated by glucocorticoid intake.
Notice
With high doses, certain beta-2-agonists showed muscular anabolic properties. It is the case of clenbuterol, released on the market in some countriesas a bronchodilator, which was used in animal diet and also by athletes to induce muscular development. Its principal adverse effects are tremors and tachycardia.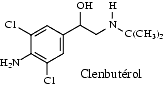 It is possible that this type of drug can be of interest in the treatment of muscular disease.