Quinolones and fluoroquinolones
Quinolones are antibiotics obtained by chemical synthesis. They derive from quinoline. One of the first active molecules was nalidixic acid. Quinolones and fluoroquinolones inhibit topoisomerase II, also called DNA-gyrase.
Topoisomerase II, made up in Escherichia coli of an alpha subunit and two beta subunits, cut the two strands of DNA reducing their supercoiling and allowing their separation, necessary for replication and transcription. This enzyme then reseals DNA fragments in a supercoiling position, which makes DNA much more compact inside cells.
Quinolones intercalate themselves in the form of magnesium complex between the two strands of the bacterial DNA and prevent the welding of the DNA fragments in a supercoiled state, and thus the formation of chromosomes in a compact state.
The differences which exist between the bacterial and human chromosomes can explain the usual absence of effect of quinolones, in therapeutic conditions, on the functioning of human DNA whereas bacterial DNA is disturbed.
Quinolones
The first quinolone used was nalidixic acid (was marketed in many countries as Negram*) followed by many derivatives, such as flumequine (Apurone* in France ), which are not marketed now. They had an antibacterial effect on Escherichia coli, Proteus, Enterobacter and because of their urinary elimination in high concentrations they were used for treatment of urinary tract infections.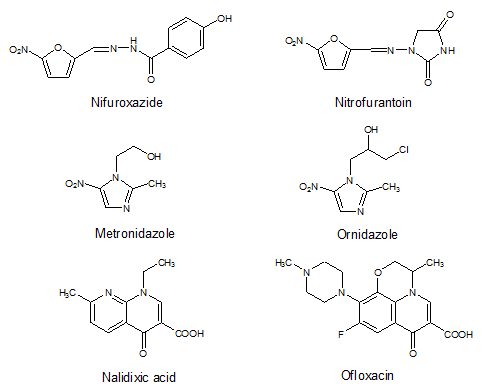 Fluoroquinolones
Quinolones with a fluorine atom are called fluoroquinolones; they are pefloxacin, ciprofloxacin (Ciloxan*, Ciproxin*), ofloxacin (Floxin*, Exocin*), norfloxacin (Noroxin*), lomefloxacin (Maxaquin*), moxifloxacin (Avelox*), gemifloxacin (Factive*).
The microorganisms sensitive to fluoroquinolones are very numerous: Gram-negative bacilli, salmonellas, Escherichia coli, shigella, gonococci, Proteus, Enterobacter, Helicobacter, Gram-positive bacilli, staphylococci, streptococci…
Because of their very good diffusion, they act on infections with different locations. The fluoroquinolones used in the treatment of the urinary tract infections are eliminated in the urine in high concentration. The fluoroquinolones used in urogenital infections due to sensitive microorganisms are norfloxacin, enoxacin and lomefloxacin.
The fluoroquinolones indicated in general infections (septicemia) or localized infections (meningeal, respiratory, osteoarticular, urogenital) are pefloxacin, ciprofloxacin and ofloxacin.
Levofloxacin (Tavanic*, Levaquin*), the S enantiomer of the racemic ofloxacin, is a fluoroquinolone which diffuses throughout the body but whose indication is restricted to the respiratory infections (pneumopathies) and ENT (sinusitis). Sparfloxacin because of its phototoxicity is not marketed any more.
The majority of fluoroquinolones is active against Mycobacterium tuberculosis and can be useful for the treatment of resistant tuberculosis.
Fluoroquinolones can cause different adverse effects: neurosensory disorders, dizziness and headache, haematological disorders, leukopenia, thrombopenia, anemia and more particularly tendinitis leading sometimes to the rupture of the tendon of Achilles. They can also give photosensitizations, even after a moderated exposure to light; photosensitization was particularly frequent with sparfloxacin. They can cause pharmacokinetic drug interactions.
Resistance to fluoroquinolones by modification of topoisomerase following a mutation is possible.
Clofazimine
Clofazimine, (Lamprene*) derivative of phenazine is an antibiotic used in dapsone-resistant leprosy. It binds to DNA. The bioavailability of the clofazimine is increased when it is taken with food. Clofazimine has a very long half-life of elimination, about 10 days, because it is stored in tissues. One of its adverse effects is to give a reddish coloration to skin, conjunctiva and tears.